My sweet husband took the day off work yesterday to take me to the doctor. I wasn't really up to driving and managing the little ones in the waiting room because I was in too much pain. So it was a huge blessing to have him come along with me.
The doctor said that I have a lot of tension in my back and neck muscles which is causing the pain I am experiencing. Tomorrow I have an appointment for a deep tissue massage which I am praying will help me feel much better. So after church it's off to the massage office then home to spend a relaxing evening celebrating Father's Day.
I woke up this morning praising for for this new day. The weather has been BEAUTIFUL here for the last several weeks. Normally at this time of year it is in the 100's already and edging up to the 110's. Not so this year! The girls have been able to go outside often and I am so thankful for that. The summer is not usually the most fun time for outdoor activities where we live.
My sweet husband leaves early for work and he let me sleep in because he knew I wasn't feeling well. I am thankful for that as well because sleep is certainly necessary for good health. I was able to get up and make some bread dough this morning and make the girls breakfast as well. Then my lovely young ladies took over for lunch as I began to braid 7 yo's hair with my heating pad in tow.
I was also so blessed this morning by my sweet sister in Christ,
DeNiece
. She awarded me with this lovely blog award.
Thanks so much DeNiece, your blog is such a blessing to me and I am honored that you chose me for this award.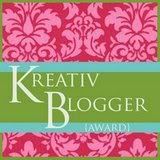 As I read on DeNiece's blog, the "rules" for this award are that you list 7 things that you love, link back to the person that gave you the award and pass the award on to 7 other bloggers. So here is my list of what I love and who I would like to bless with this award.
I love...
1. Above all I love God. He is my salvation, my strength, my healer, my provider and my comfort in all things.
2. I love my husband. I am eternally thankful that God has allowed me to share my life with him.
3. I love my children. They are precious little gifts and it is a joy to watch them grow and learn.
4. I love my family and friends. My parents, sister, in-laws, aunts, uncles, cousins, all of my friends etc. I am blessed with a big and loving family and loving friends and for all of them I am thankful.
5. I love it when it rains! Especially in the summer. The fierce thunder and lightning coupled with the cool drizzle of falling rain is God's power incarnate.
6. I love freshly baked bread. Any type, if it's warm from the oven and topped with butter. Mmmm!
7. I love blogging. Getting to know others and being edified by them and encouraging them is such a blessing.

I would like to pass this award on to the following bloggers that have truly blessed me...
1. Bethany at
Happy To Be Called "Mommy"
2. Crystal at
Homemaking Homesteader
3. Linda at
Homeschooling 6
4. Erika at
Tummy Treasure
5. Sharon at
Keeper of The Home


6. Donetta at
A Life Uncommon
7. Dawn from
On A Quest For Plain Living

Praying you all have a beautiful and blessed weekend!